This post is part 1 of my blog series "Building a Public-Facing Website on Office 365":
Creating a Public-Facing Website on Office 365 – Part 1 (This post)
SharePoint 2013 on-premises provides an excellent Web Content Management System (WCMS), with significant improvements and features in 2013.
However, the Microsoft-hosted SharePoint Online which comes as part of Office 365 has always had a reduced feature set and is somewhat limited by comparison. This does not mean you can't build a great Public Facing Website (PFW – I know, enough with the acronyms, that one's made up..).
This post (and future posts on the subject) explore what is and isn't possible on SharePoint Online, and how to get the best out of the still excellent WCMS.
If you can live with the reduced feature set, it really is a no-brainer to host your PFW on SharePoint Online.
It is assumed that the Microsoft guidance has been read; this is a more pragmatic approach, including validation of the "You can use Dreamweaver to design your site with no SharePoint knowledge" claims and a realistic view on the new SharePoint 2013 features.
On with Part 1… the limitations, some with workarounds. Hopefully you can identify any show stoppers for you and your organisation before going down the Office 365 route.
Public Facing Website Limitations
This list will be amended as new limitations are encountered or viable workarounds are found. Please feel free to contribute to this list in the comments below or correct any items; it's early days yet and new "features" are found regularly 🙂
Limited SharePoint User Interface
For any of the following it is necessary to use SharePoint Designer 2013 or write code in a Sandboxed Solution rather than use the SharePoint User Interface (UI):
Content Types & Site Columns
It's not possible to create Content Types via the UI. You can access Site Columns via [siteroot]/_layouts/15/mngfield.aspx but this option is hidden in Site Settings.
Subsites
It's not possible to create Subsites via the UI, however the following templates can be used from SharePoint Designer:
Team Site
Basic Search Site
Many other useful sites such as an Enterprise Search Site are not possible to create via SharePoint Designer.
Unfortunately there is no Blank Site, however the Basic Search Site doesn't contain a great deal so could easily be used as a basis for subsites.
SharePoint Sandboxed Solutions
For a robust deployment strategy, provisioning of site columns, content types and content is usually best managed using SharePoint solutions (WSPs).
The option to upload sandboxed WSPs to the Solution Gallery does exist in SharePoint Online but is hidden from the UI – you can access it via [siteroot]/_catalogs/solutions/Forms/AllItems.aspx.
Sandboxed solutions have been deprecated in SharePoint 2013, however it is still the easiest option for provisioning (you could opt for an App if you are feeling brave… client-side object model does allow for management of site columns and content types).
Device Channels
Device Channels do exist but they are hidden.
A quick browse around the Site Contents via the SharePoint UI will not list the Device Channels, however you can access them via [siteroot]/DeviceChannels – unfortunately it is not possible to add to this list though:

What this effectively means is that you are stuck with Microsoft's "Any Mobile Device" channel, which is a far sight better than the SharePoint 2010 options. You can provide your own master page for this mobile channel, or follow the default channel.
Managed Metadata
Unfortunately it is not possible to leverage custom Managed Metadata (e.g. a Managed Metadata Site Column for a Content Type) for your public-facing website with the exception of:
Enterprise Keywords (this can be accessed via [siteroot]/Lists/TaxonomyHiddenList/)

Wiki Categories (not particularly useful..)
Edit: This is possible! It can be achieved by adding a Managed Metadata site column from the SharePoint UI at [siteroot]/_layouts/15/mngfield.aspx.
However the following is still true; no taxonomy-based navigation:
This is particularly disappointing as it means that taxonomy-based navigation can't currently be used.
Features
It is not possible to manage (activate/de-activate) features for the public-facing site collection or its subsites, from the UI.
This problem has been solved in part by Ashok Raja with a Feature Manager web part for activating and de-activating features. Nice work, thanks! 🙂
Product Catalog
There is no product catalog in Office 365.
Content Search Web Part
The Content Search Web Part (CSWP) is not available at all in SharePoint Online.
I'm not sure of the reasoning for this, as it is a really useful front end for the same core search engine that DOES exist in SharePoint Online.
I have heard rumours that the CSWP will be introduced in the near future, but who knows…
Search
In addition to the previously-mentioned excellent Content Search Web Part, Search options are somewhat limited – the crawl is not "continuous" so Search-driven content takes quite a while to appear.
There is an option to Force a full crawl on the next crawl but it's anybody's guess as to when this might be… it is meant to be crawled every 5 minutes but in my experience it can take up to an hour: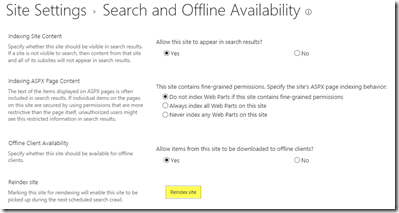 It is also possible to re-index a given List or Document Library "on next crawl":

A warning is then displayed:

Variations
If you have multi-lingual requirements, you will be best looking at SharePoint on-premises as Variations (SharePoint's way of managing content in different languages) are not available in Office 365.
The feature to Export your site's contents for translations & re-import unfortunately does not appear to deal with web content.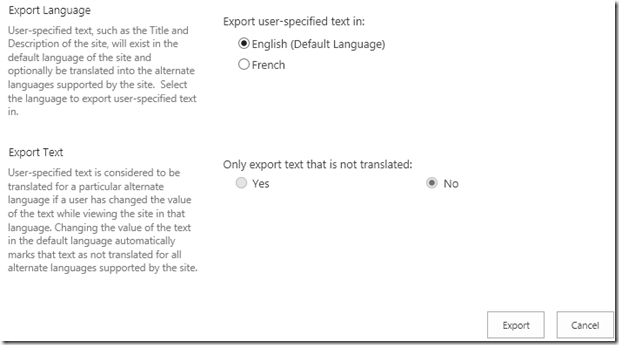 Publishing Features
There was a healthy debate initiated by Martin Hatch about whether we are allowed to switch on Publishing Features (and remain supported!) in the previous version of SharePoint Online – in the new and improved SharePoint 2013 public-facing website publishing features ARE enabled as far as the following are concerned:
Publishing pages
Custom master pages & page layouts
This is good news! So not a limitation as such, but worth mentioning as it was previously not possible in SharePoint 2010 Online. I haven't found any specific limitations of the publishing feature set yet.
Hope that helps!
Gus