The Problem
Opening a Word document from Office 365 using Word 2010 or 2013 results in the following: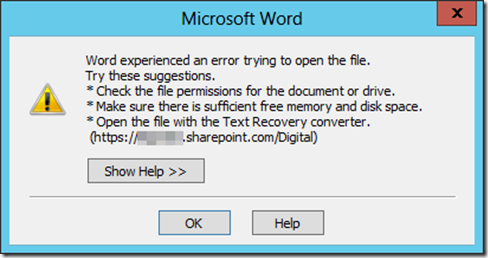 The Cause
There cause is actually Word's default security settings… probably a good thing!
The Solution
You can resolve this issue in at least two ways:
1. Disable Protected View (not recommended…)
You can disable protected view for files originating from the Internet.
This option isn't recommended, as it potentially exposes you to unnecessary risks by unchecking the highlighted box below in the Trust Center (Word Options > Trust Center > Trust Center Settings > Protected View).
However it does let you access the file(s) again.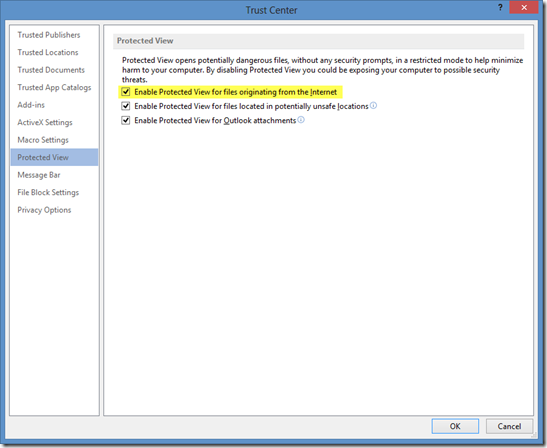 2. Add site to Trusted or Intranet Zone (Recommended)
This is the preferred option, as it means you are trusting one site rather than the whole of the internets…
From Internet Explorer settings or from your Control Panel > Internet Options, add the site to either the "Trusted" or "Local intranet" Zone: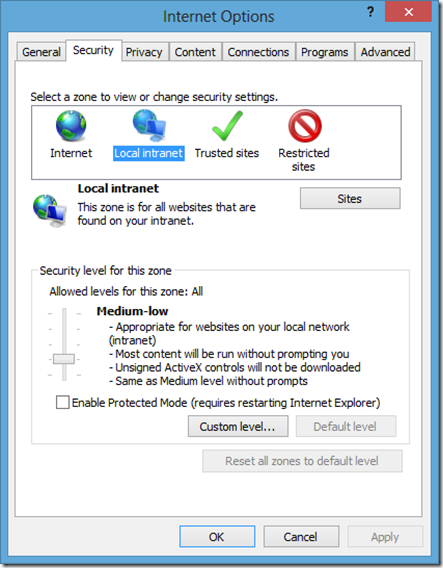 Click on "Sites" then add the site URL – note that wildcards work here e.g. https://*.sharepoint.com if you want to trust all of SharePoint online.. the Local intranet zone is my preference as it means less risk of issues when integrating with Microsoft Dynamics CRM however to resolve this Word issue, Trusted is enough.
Hope that helps!