The Problem
You have configured CRM 2011 (online or on-premises) to store documents in SharePoint (online/Office365 or on-premises). Maybe you followed this excellent guide (SharePoint online) or this guide (SharePoint on-premises). Whichever way, you will have downloaded & deployed the Microsoft Dynamics CRM 2011 List Component for Microsoft SharePoint Server 2010.
However, you find that, once setup, the following actions dropdown is missing…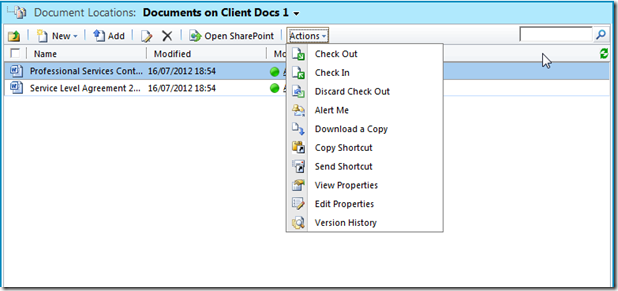 You check that https://*.sharepoint.com and https://*.dynamics.com are in your Trusted Sites zone (or perhaps more specific URLs), but it's still not working… if you try to access documents from the Outlook connector (add-in) you get a script error.
The Cause
The cause of this is the .htc behaviour that the List Component previously deployed is using some CSS which by default renders the drop-down. It is hosted within an iframe, and default IE security settings prevent "script-initiated windows without size or position constraints", even in the Trusted Zone – the CSS which the HTML behaviour references falls foul of this.
The Solution
The quick solution is to enabled this setting in your Trusted Sites zone. Yes this will make your browser marginally less secure. But you will get your actions drop-down again: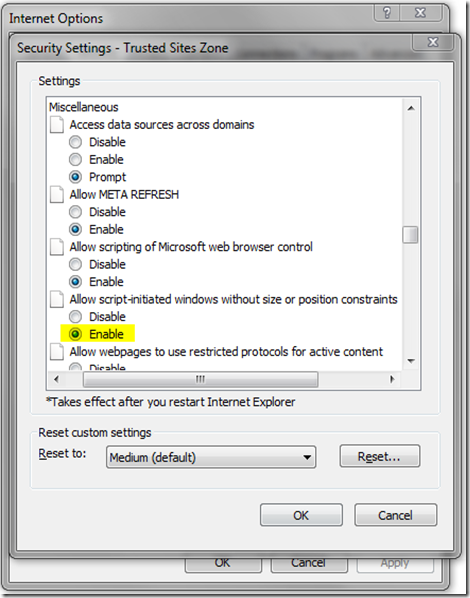 Hope that helps… quite possibly the last SharePoint 2010 blog post for a while as SharePoint 2013 was released in public beta last night!