So the Microsoft SharePoint Conference is over for 2014, it was a big one.
With 10,000 attendees and over 400 sessions this really is the one to attend if you have any interest in SharePoint; from a developer, IT Pro, Executive or end user perspective there were several more relevant sessions than it was physically possible to attend. I'm looking forward to the video content being released so I can catch up on the sessions I was unable to get to!
Glad to be home after a week of balancing jet lag, social events, and the conference itself of course – to all my new friends and contacts from over the pond – "you don't sound like you from Joisey"… I'm not, it's "Old" Jersey – map here but if Microsoft can't get it right (it says UK on that map…) then maybe I shouldn't blame y'all 😉
TL;DR – Cloud, Interoperability, Open Source and Inspiration 🙂
Keynote
President Bill Clinton was an odd choice of speaker for me. He admitted himself during the keynote that he struggles with technology – he understands the impact that technology can have and did his best to inspire the audience, but I can't help but think that new CEO Satya Nadella and/or Bill Gates could have done a better job of inspiring the partisan crowd.
Despite this, there were some really positive new announcements in the social and app space.
Enterprise Social and Office Graph
One of the answers I was looking for from SPC was the social roadmap – in black and white the message was delivered:
"SharePoint social features will not be extended in future versions"
Anybody familiar with the InfoPath story (!! more on that later..) will recognise this death knell. However, unlike InfoPath, a suitable and better option is available – Yammer obviously. This presents little obstacle for Office 365 customers but with many on-premises customers, SharePoint social is an easier option to implement so it depends on your strategy how important building out a hybrid on-premises SharePoint with Yammer is, versus a wholly on-premises SharePoint and old-school SharePoint social option – which works well today.
Improvements in the analysis of social interaction with the application of machine learning resulting in Office Graph – the Oslo client below shows connected employees – more on the official Office blog about this, looks great.
To the Cloud with Interoperability and Open Source!
A few key themes throughout the conference from the keynote through to the breakout sessions confirmed the direction that Microsoft is headed; for anybody under a rock the future is in the Cloud, or to be specific, Office 365 and Azure.
The writing has been on the wall for a long time so this should really come as no surprise, with Office 365 eclipsing SharePoint as the fastest growing product in Microsoft's history, it's clear to see where the future lies – $1.5 Billion and a 500% increase in users in the last year is phenomenal. A 2015 release for SharePoint may have been mentioned during the keynote, but I wouldn't be surprised if the next big conference was dubbed an Office 365 conference with a SharePoint track.
There were a few other really positive signs of things to come from Microsoft – mention of iPads and Android devices during the keynote was a first and would have been unthinkable just a few years ago. As the juggernaut moves from a traditional software licensing company to a services organisation with recurring revenue the move towards compatibility and open standards demonstrates a more realistic understanding of how businesses (and consumers) operate today. This is really welcome; the traditional blinkered Kool-Aid perspective where everybody who matters only uses Microsoft software and hardware is decreasing. To my knowledge no other company works so hard to make services work across the board; I have a multitude of devices I used depending on the day (iPad, Nexus 7, Windows Phone and multiple Windows 8 laptops) and I want a consistent user experience when switching devices.
At this stage in the product cycle it was also possible to have more external speakers with a wealth of real-world consulting experience (as opposed to Microsoft marketing speakers with early product knowledge). External consultants are often permitted to be more pragmatic about options and don't necessarily toe the company line.
In addition to the previously mentioned interoperability with devices, it was great to attend sessions embracing open source frameworks and standards such as Google's Angular.js (nice work Jeremy!) references to GitHub and TypeScript were plentiful (along with compatibility for many OSS frameworks) and even ShareCoffee – a really positive shift for SharePoint developers. A few prominent members of the SharePoint community have promised to release some material to better support Angular.js on SharePoint; looking forward to seeing some content there soon.
The Future of Forms
One of the most popular sessions attended was "Update on InfoPath and SharePoint Forms".
As with the move to the cloud, the writing was on the wall for long time – hardly any time devoted to InfoPath at SPC12 and no upgrade to the product with SharePoint 2013, with the official announcement in January 2014. Microsoft are keen to insist that InfoPath is fully supported until 2023 – if you have any forms alive for over 10 years in InfoPath then they are either really simple or an alternative technology is likely to be a better option!
Sadly for most attendees of this session, there was no white knight in shining armour, but requests for feedback at http://officeforms.uservoice.com
My list would be as follows:
Power user tool to configure forms for SharePoint lists
Ability to show/hide/disable form fields/sections conditionally (e.g. user in a role, or status of the form)
Ability to have security not by obscurity (i.e. preventing a submission via a web service or client other than he intended form)
Doesn't sound too hard… the following roadmap demonstrates what is in the pipeline: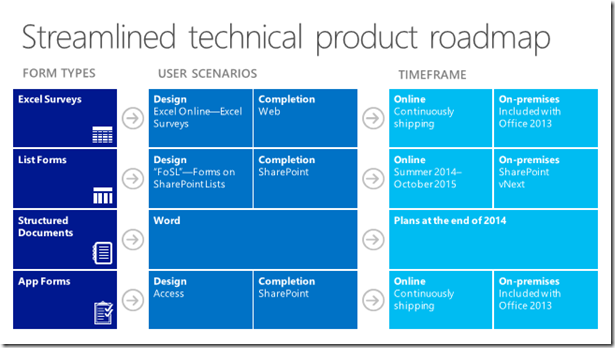 Tobias Zimmergren has done a good job of summarising the Microsoft options in more depth.
[Edit: Nik Patel has done an awesome job of summarising this session here including Q&A]
In the meantime there are many 3rd party tools; Nintex and K2 being popular commercial options – Mark Rackley has also developed a Codeplex option called Forms7 which should be investigated if you need to write client-side forms fast.
Breakout Session Highlights
A number of other sessions I attended were of direct, useful relevance to me, my team and our clients; some personal highlights of sessions not already mentioned include:
TypeScript – there is no reason not to use this! Type-safety and refactoring alone make this worthwhile using. Yes, you can retrospectively apply this to your projects and as previously mentioned loads of OSS frameworks already compatible. A most entertaining speaker and good friend Matt Bremer delivered a great session on TypeScript which demonstrated its immediate value – nice work Matt, the lightbulb is on!
Search – v2 of the already great Search Query tool was released just after Mikael Svenson and David Hollembaek's great session on Search – highlighting how you probably can't influence query, content, ranking, UI and intent… with solutions to get around common issues. As data is growing exponentially the need to master Search is a must!
Document and Records Management – the scale at which SharePoint is being used for one global bank was incredible to hear about. 370 Million documents and records, with 1.5 Petabytes of legacy content. Really interesting to see the server farm architectures for this solution and to hear that it is possible at such scale. Microsoft's own challenges have been documented in a case study – well worth reading.
Heineken Knowledge Management – a personal favourite, maybe not for the obvious reason (!) but having worked on some UK solutions for this global brand in a previous role it's great to see things being taken to the next level with a mature knowledge management system. Great session Tony!
Microsoft Hires Developer Evangelists
In addition to various product updates and news from the Mother Ship, some really great news about forthcoming changes in personnel at Microsoft signify a really positive move – the intent in hiring back Chris Johnson and hiring Jeremy Thake is a huge boost – not just for Microsoft, but I expect (no pressure guys!) better communication and developer support for Office 365 (which comes anyway from Chris & Jeremy, but with the backing and mandate to do so from Microsoft things are really going to improve!).
A number of issues with SharePoint Online as experienced by many and reported by Andrew Connell and Marc Anderson will hopefully be a thing of the past, won't they…?
SPC Social
No report on a conference in Vegas would be complete without some mention of the social aspect – yes there were parties but I'll leave this picture of the SPRunners outside the Venetian at 6am to remind you that some people were being good (some of the time anyway ;-))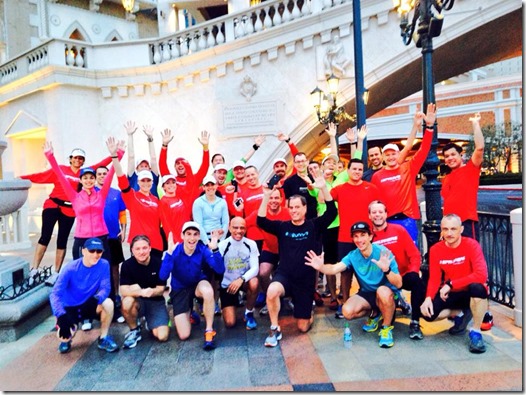 (if you want to see more on the various parties Avepoint's Red Party and the Metalogix party were the places to be!)
Summary
It was a great conference, full of real world stories and value for attendees and it was great to catch up with old friends & make new ones (you know who you are!).
I wouldn't mind if we took a break from Vegas next time, but hope to catch up at the next SPC – thanks to C5 Alliance for sending me along from (old) Jersey – if you are in the Channel Islands look out for a User Group session coming shortly!
Gus