I couldn't fit my response to a brief discussion on Twitter regarding wireframing/storyboarding options into 140 characters… so following are some useful links and background on what may work for you to illustrate your amazing new app/solution/product.
Balsamiq
I love Balsamiq. I use it for nearly every proposal to illustrate effectively what kind of deliverable the client is going to get; a picture tells 1,000 words. I recommend it highly when talking abut SharePoint branding, or any solution where the content is important (ie. just about everything!)
It is great value for money, and there is a great community-driven set of templates (including a SharePoint ribbon and standard controls!)
The results are purposely hand-drawn, which focuses the mind on content vs colour/style etc. and only the occasional client has commented that they would prefer it to look "a bit less childish"… (only by those that mistake the wireframe for the actual product!)
I'm not a fan of Adobe Air, but accept it for this, it's worth it. The free online version is definitely worth a try.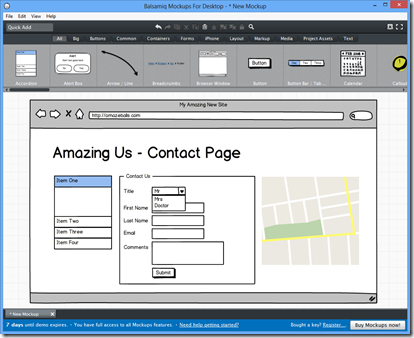 PowerPoint
I have never used PowerPoint for storyboarding, but a few clients have occasionally drawn big box shapes to help us understand what they are thinking.
However, with Visual Studio 2012, you can now Storyboard a User Story or Requirement Using PowerPoint.
You can also link your storyboard with TFS 2012, which sounds productive.
If you search the Visual Studio Gallery for "storyboard", you'll find that the Storyboard Shapes Team has been working hard on not just Windows/Microsoft features but also the "sketchy" look and feel and iOS/iPhone shapes and icons.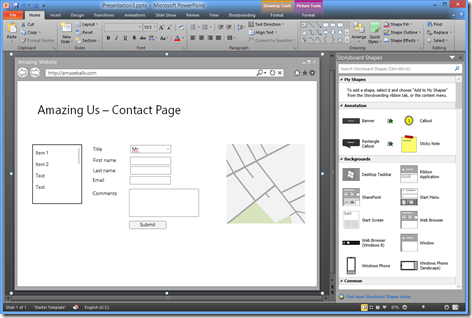 SharePoint
I work a LOT with SharePoint, and found the following Balsamiq shapes courtesy of https://mockupstogo.mybalsamiq.com – they are GREAT!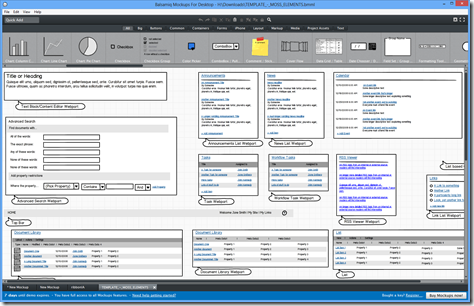 The Microsoft PowerPoint option does have this, which is a good start; nod to SharePoint boilerplate chrome but not much for core content: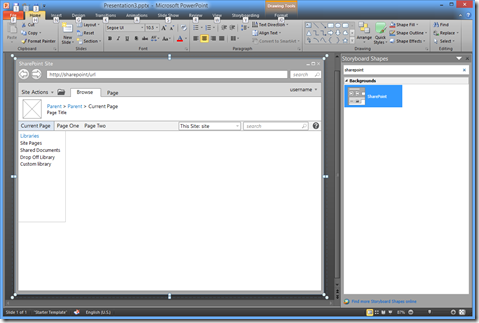 Summary
If I wasn't already a heavy Balsamiq user I would probably be happy with this new VS 2012 offering; if my colleagues all adopt PowerPoint for storyboarding, I may have to switch, but until then I'll continue using Balsamiq. It is definitely quicker for me, easier to align items, and the (SharePoint) community-built templates at https://mockupstogo.mybalsamiq.com are great.
As long as you are wireframing/storyboarding somewhere that's the main thing, I suggest you try both above options to see what fits (non-VS 2012 users will probably find Balsamiq easier).
Happy storyboarding!